Consider This! | Conservative political commentary in 10 minutes or less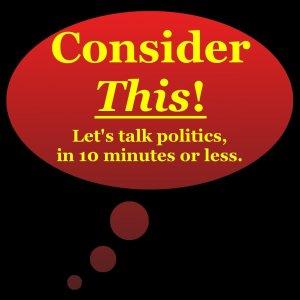 Latest Episodes

September 11, 2021
In this episode you'll hear my 9/11 memories, a listener's memories, and a Romanian's ruminations on how we came together in the days following. 

August 30, 2021
The UK's NHS is continuing to kill children. Update on James Younger. And Afghanistan.

August 16, 2021
This time out, we're going to have just good news. No conservative commentary. (Well, maybe just a little bit.)

July 19, 2021
Why would you voluntarily seek to represent a group that you disagree with? Do we need to make "private company" exceptions for Big Tech?

May 31, 2021
Can you be censored for stating basic facts? Is there a downside to the enhanced unemployment benefits?

April 26, 2021
Everything seems to be about politics lately; chicken sandwiches, pillows, airlines, and sports. That's not a good thing, and I get into why.

March 30, 2021
Why all the illegal immigrants rushing the border? Why is Jack Phillips of Masterpiece Cake Shop still in court?

March 05, 2021
When is a terrorist not a terrorist? When is a cage not a cage? When is women's sports not women's ports?

February 22, 2021
My review of "Impeachment" season 2. My review of the impact of Rush Limbaugh.

February 08, 2021
Many COVID restrictions lifted so soon after Biden's inauguration. San Fran cancels various school names, some for hilarious reasons.