Consider This! | Conservative political commentary in 10 minutes or less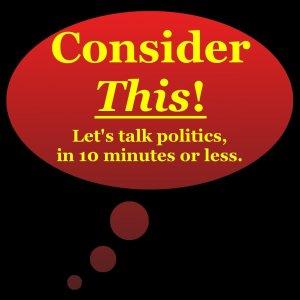 Latest Episodes

July 25, 2022
It's been a good run, but after 10 years, this show is done. I appreciate all my listeners on whatever point on the political spectrum you might be. I have a few parting thoughts, some reminiscing, a

May 16, 2022
A leak out of the Supreme Court suddenly made abortion and Roe v Wade the main topic of outrage from the Left. But, aside from whether or not the opinion aligns with yours, what are the reasons that t

May 09, 2022
When the perp is black, papers bury it. There was quite a backlash to Elon Musk buying Twitter. Disney is going woke. Will it go broke?

April 11, 2022
Biden seems to call for regime change in Russia. The media are starting to admit the Hunter Biden story was buried. The Florida Parental Rights in Education bill get smeared.

November 01, 2021
How's Biden handling the rampant inflation? Is it ever right to refuse service based on politics? Which side doesn't want to deal with a debt ceiling anymore?

September 11, 2021
In this episode you'll hear my 9/11 memories, a listener's memories, and a Romanian's ruminations on how we came together in the days following. 

August 30, 2021
The UK's NHS is continuing to kill children. Update on James Younger. And Afghanistan.

August 16, 2021
This time out, we're going to have just good news. No conservative commentary. (Well, maybe just a little bit.)

July 19, 2021
Why would you voluntarily seek to represent a group that you disagree with? Do we need to make "private company" exceptions for Big Tech?

May 31, 2021
Can you be censored for stating basic facts? Is there a downside to the enhanced unemployment benefits?