Consider This! | Conservative political commentary in 10 minutes or less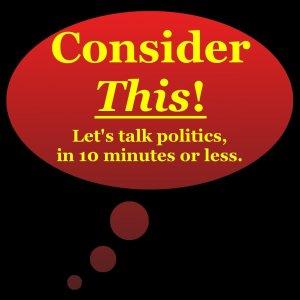 Latest Episodes

March 30, 2021
Why all the illegal immigrants rushing the border? Why is Jack Phillips of Masterpiece Cake Shop still in court?

March 05, 2021
When is a terrorist not a terrorist? When is a cage not a cage? When is women's sports not women's ports?

February 22, 2021
My review of "Impeachment" season 2. My review of the impact of Rush Limbaugh.

February 08, 2021
Many COVID restrictions lifted so soon after Biden's inauguration. San Fran cancels various school names, some for hilarious reasons.

January 25, 2021
A look at some of the executive orders of the Biden administration

January 18, 2021
The idea that mob violence is always wrong is (or should be) non-controversial. But apparently it isn't quite that simple for some.

December 17, 2020
A boycott backfire, a very "personal" gift, and a listener suggests a balanced news site.

December 07, 2020
When Trump started his term, illegal immigration started to trend down. With Joe Biden the presumptive President-elect, what do you think that trend is doing now? Politicians make verbal gaffes; it happens all the time.

November 23, 2020
Down-ballot wins for Republicans. How do you choose your news station