CompTIA Biz Tech Podcast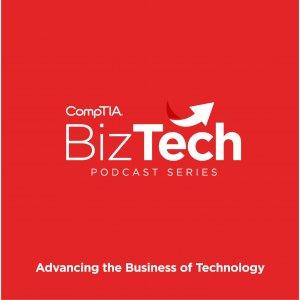 Episode 20: Digital Transformation? Get Your Shift Together!
October 21, 2020
Getting customers to embrace the power that technology can bring to their business has been the at the core of the "digital transformation" for years. But that conversation can be had with an immediacy and urgency previously unknown given new realities of remote work and a rising awareness of cybersecurity threats. Miles Jobgen, Director of the IT Security Community, talks with Executive Council Member and President of Net Sciences, Inc. Joshua Liberman about having a plan ready to execute when clients ask how their IT services can play a role in keeping their business viable and secure. Get your shift together!
Join the IT Security Community: https://www.comptia.org/membership/communities-and-councils/it-security-community
About our Guest:
Joshua Liberman, President, Net Sciences, Inc.
Joshua Liberman, President of Net Sciences, started in computing in 1990 and has built, secured and managed hundreds of networks over the years.  Starting out as a Novell CNE and later becoming a Microsoft MCSE and CISSP, he has grown Net Sciences into a mid-sized network support firm, offering systems integration and MSP services throughout New Mexico.  A former rock and ice climber, martial artist and rally driver, Joshua travels extensively, speaks several languages, writes, does event photography, keynotes at events, and raises Siberian Huskies in Albuquerque, New Mexico, where his wife Heidi calls him the world's most interesting geek.
---
Download Episode