Class 1000: A Marvel Super Heroes Live RPG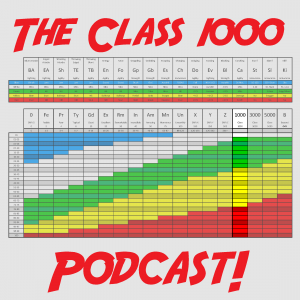 Latest Episodes

July 15, 2020
An important announcement from your friendly neighborhood Game Master regarding the future of the show.

July 01, 2020
Coppertop, C-man, Teek-K-O, and 1-0-1 make it to Mister Fear's hideout and have a final battle with the mastermind (?) behind everything, as well as his minions! Why did he do all of this? How did the whole lightning thing work? What's the deal with The .

June 01, 2020
Coppertop, Teek-K-O, C-Man, and 1-0-1 continue into the tunnels to find The Book, helping C-Man's fellow Morlocks deal with The Marauders along the way. 

May 01, 2020
Coopertop, Teek-K-O, C-Man, and 1-0-1 head to The Met to get some new information on The Book, and get a lead on the author! They then head down into the tunnels under the city to track the book itself. Well, most of them do anyway.

April 01, 2020
Coppertop, C-Man, Teek-K-O, & 1-0-1 head to Ellis Island to rescue Felicia Bifrost and see what connections the historical landmark has to Mister Fear and The Book. They run into a few surprises, though, one of which is the worst possible thing for Teek-.

March 01, 2020
Coppertop, C-Man, Teek-K-O & 1-0-1 meet up with Johnny Bifrost and get a clue as to where to head next in their search for Mister Fear and The Book.

February 01, 2020
Coppertop, C-Man, and Teek-K-O are interviewed by the police, with varying degrees of cooperation (and Gene gets to put his extensive watching of The First 48 to use). They then get to meet with their counsel (who you might just recognize) and go before .

January 01, 2020
Coppertop, Teek-K-O, C-Man, & 1-0-1 head to the East River Savings & Loan to try and prevent a robbery. It goes pretty much as you would expect, although it took half the time of last episode to get there.

December 01, 2019
Coopertop, C-Man, and Teek-K-O welcome new character 1-0-1 (pronounced Lal) and track down the origins of the bomb they dealt with in Episode 13. Some role-playing, some fighting, and A LOT of juvenile banter make up this episode. Fair warning: This is a.

November 15, 2019
In a very special episode, Adam and Gene walk new player, but old friend, Frank through all of the steps of character creation using the Ultimate Powers Book (with some input from Fred). If you're interested in how characters are created, both using rand.