Citizen Reformers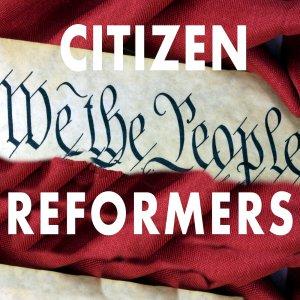 Ep. 004: David Denham – Troublemaking Minister & Anti-Corruption Activist
March 24, 2020
David Denham is the head of the Represent Roanoke Valley/the Clean Money Squad
Inspired by its activist role in the civil rights movement of the 1960s, David Denham joined the United Church of Christ because he wanted to become a "troublemaking minister".  After more than 40 years leading congregations up and down the Mid-Atlantic States region, Denham and his wife Anne remain fervent troublemakers – proudly recalling their civil disobedience in standing up against corruption.
Twice the Denhams were arrested on the National Capitol steps along with 1,400 other protestors in a 2016 Democracy Spring anti-corruption rally.  They were arrested yet again in the Roanoke office of their Congressman, in an attempt to pressure Rep. Goodlatte to release a bundle of draft reform bills (campaign finance, government ethics, and voting rights) he was sitting on as then Chairman of the House Judiciary Committee.  
These draft bills were eventually released and were later passed in 2019 by the full House of Representatives as the "For the People Act" (HR – 1).  Based on this experience, Denham is convinced that civil disobedience is one critical path to effect change.  He credits the mass jailings of the Democracy Spring rally with generating national headlines that spurred Rep. John Sarbanes (D-Md) to pressure Goodlatte to release the bills.  Denham's work is not done, however, as the Senate has deep-sixed its version of the "For the People Act".
Denham is not just a troublemaker, he is also an organizer for social justice with a long track record of building strong alliances and effecting real change.  As the head of the cross-partisan Represent Roanoke Valley/the Clean Money Squad, he has been a strong advocate for anti-corruption reform in Virginia for the past 6 years. 
His latest achievement involved supporting a constitutional amendment to end gerrymandering.  In partnership with the OneVirginia2021 organization, Denham reached out to the national headquarters of RepresentUS for help.  Their response proved pivotal in mobilizing volunteers nationwide to contact citizens through their phone/text banks.  These volunteers contacted over 70,000 Virginia voters urging them to contact their legislators and demand that they vote in favor of the amendment, and delivered petition signatures to legislators from over 3,400 RepresentUs members representing all 50 states
Denham and members of Represent Roanoke Valley and other grassroots organizations active in Virginia also joined in a lobby day in Richmond to underscore how important ending gerrymandering was to voters across the state.  The amendment successfully passed in the Virginia House of Delegates and will now be placed on the ballot in November as the final step in the process.  Denham explained that this effort was a huge success for the anti-corruption movement and reinforced the impact of collaboration and teamwork among the various organizations involved.
Since 2014, Denham has been a real trailblazer in raising support for anti-corruption action, initially in Roanoke and Southwestern Virginia, then expanding statewide.  Starting with helping to form the first RepresentUS chapter in Virginia, Denham engaged with voters to encourage their support for model legislation called The American Anti-Corruption Act (AACA).  Visiting businesses, arranging voter education tables at festivals and a range of public venues, and going door-to-door, Denham and other volunteers found that voters were very receptive to their message.  Corruption concerned them and they wanted to take action.  Signing pledges in support of the American Anti-Corruption Act made sense to them, given its emphasis on stopping political bribery, ending secret money, and fixing our broken elections.
Of course, having Delegate Sam Rasoul as a champion in fighting corruption had certain advantages as well.  In 2014, Delegate Rasoul was the first elected Virginia official (repr...
---
Download Episode