Chicago Events - Life on CHI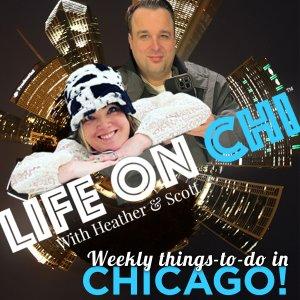 Ep7: Chicago events for the weekend July 16-17
July 12, 2022
Hello mid-July, and we're kicking off Chicago music fests from the official 2nd best city in the world. Get ready to pull out your wallet because for some of the best experiences this week, you may need to pay up.
That's ok because it's right here in our backyard. If you're visiting Chicago this weekend, welcome and enjoy the show. There are more concerts going on this weekend than we can list. Here's a sampling of some of the biggest and best you might not want to miss.
Music Festivals
Pitchfork Music Festival 2022 (West Loop)
Pitchfork Music Festival July 15-17 at Union Park in Chicago
pitchforkmusicfestival.com
Heatwave Music Festival – (Pilson)
Home page for Heatwave Music Festival a Pop-Art paradise bringing the biggest names in dance music to Chicago July 16th and 17th 2022
heatwavemusicfestival.com
Chicago's Official Reggaeton Festival
Mas Flow is a reggaeton festival in the Midwest! We're bringing the hottest reggaeton artists of our generation to Chicago. Enjoy this 3-day festival on July 15th – 17th presented by Grass Root Events & Chicago Michelada Fest
www.masflowchi.com
Volleywood featuring Corona Electric Beach (North Ave Beach/Lincoln Park)
Chicago Sport and Social Club presents Volleywood featuring Corona Electric Beach – Saturday at North Avenue Beach:
www.eventbrite.com
Neighborhood Festivals: Eat your way through Chicago this weekend!
ROSCOE VILLAGE BURGER FEST (Roscoe Village)
burger aficionados rejoice! Chicago eateries will present their best and most creative sandwiches at the annual Roscoe Village Burger Fest returns for its 15th mouth-watering year this July. The organizers ask that you trust them when they say the chefs go to extraordinary lengths to impress burger aficionados. Belmont and Damen, Roscoe Village
chicagoevents.com
Tacos y Tamales Festival (Pilsen)
Green Curtain Events presents Tacos y Tamales Festival in Chicago – a street festival based on a traditional Mexican market known as the Tianguis. The Festival will take place in the shadows of the 16th street murals. Suggested Donation benefiting local community organizations in Pilsen.
chicagotacofest.com
Horner Brew Fest – Beer, Food, Music (West Side)
The Brew fest is an annual fundraiser to support the sustainability initiatives of the Horner Park Advisory Council. This year's goal is to raise sufficient funds to treat and preserve 79 critically endangered ash trees. Horner Park is the only remaining city park with a grove of healthy ash trees. Tickets are $45 per person, which includes: Admission to the event, a tasting glass and samples from every attending brewery. That's over 40 varieties of beer from which to choose. Participants must be at least 21 years old. We also offer a reduced rate of $10 for non-drinking, designated drivers.
www.hornerfest.org
Festival of the Lakes | Hammond, Indiana
Wolf Lake Memorial Park – July 13 – 17
www.festivalofthelakes.com
Art Fairs & Shopping
Millennium Art Festival | Amdur Productions
This top-ranked three-day show, popping up in the heart of Chicago's vibrant downtown, plenty of time to enjoy the art of 130 juried artists from near and far. Located just a few blocks north of Millennium Park, guests will see an array of original artwork, including paintings, ceramics, photography, furniture and more, at all price points. Festival food, live music and artist demonstrations add to the festive vibe of the show. Admission is free and parking is available in the nearby Millennium Parking Garage. 
amdurproductions.com
Vintage Market – andersonville
Andersonville Vintage Market Sponsored by SCOUT + Design Dates: July 17 at 1500 W Catalpa (between Clark and Ashland) Hours: 10AM-3PM | $5 suggested donation
andersonville.org
Vintage Garage – Chicago's only monthly all-vintage market
The Vintage Garage Chicago Flea Market Evanston. 1800 Maple, Parking Garage, 5th floor! 3rd Sunday in July, August, September and October! 10am – 4
www.vintagegaragechicago.com
#Experiences
One of Chicago's best rooftop bars debuts a new light-up experience
Admire glowing floral lights and skyline views at Luminescence, a new light-up experience at LH Rooftop.
www.timeout.com
Let's hike Meetup: Sat, Jul 16, 2022, 8:00 AM
This will be a 7-9 mile hike at a 3.5MPH pace. Leashed, friendly dogs are welcome, but the group will not wait while you tend to your dog. Bring a snack and plenty of water. Red Gate Woods
www.meetup.com
The post Ep7: Chicago events for the weekend July 16-17 appeared first on Life on CHI.
---
Download Episode