Chicago Events - Life on CHI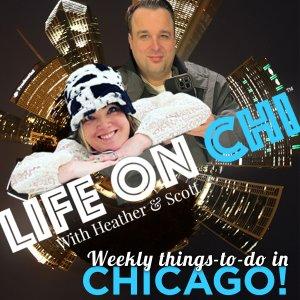 Ep6: Weekend of July 9-10, 2022
July 07, 2022
Hello July! Guess what, it's the Taste of Chicago already and we've got you covered for what's happening this weekend in Chicago. Wanna stay downtown or head to the burbs, here are some fun fests, culture, and music things to do right here at home in sweet Chicago.
July 8 – 10: Taste of Chicago Grant Park
For the seventh straight year, Humana will once again be offering the Humana Healthier Choices program, which highlights healthy menu items from restaurants participating in the Taste of Chicago.
www.chicago.gov
Steppenwolf Choir Boy Associates Board July 9
Don't miss an evening of drinks, delights and dazzling art! With a pre-show cocktail party featuring an open bar, heavy hors d'oeuvres fabulous raffle prizes, and a performance of a highly acclaimed play, supporting Steppenwolf Education has never been more exciting.  
www.steppenwolf.org
July 9 – 10 | Chicago Vintage Festival in Pilsen
A festival for all our local vintage shops and handmade vendors. We hope to create a space for the fashionistas and vintage enthusiasts. We appreciate you joining us and sharing this with us.
www.chicagovintagefest.com
Illinois Vintage Fest DuPage Fairgrounds
Illinois Vintage Fest will be returning for our second two day event at the Dupage County Fair Grounds & Event Center. This is an indoor event but food…
www.facebook.com
West Fest Chicago | West Town Chamber
West Fest Chicago is an annual street festival held in Chicago's West Town Community on Chicago Avenue between Damen Avenue and Wood Street presented by the 
West Town Chamber of Commerce
. West Fest Chicago began in 2004 and has since grown into one of Chicago's most popular and well-attended street festivals.
www.westtownchamber.org
WEST LOOP SUMMER FEST – Special Events Management
We're bringing the beach to the West Loop for this new July favorite – the West Loop Summer Fest! From sand (you heard right) to festival yacht-rock and tropical-inspired tribute bands, you'll be uprooted to a far-off island in your own backyard. And that's before the tasty beverages and local food vendors (a trait the West Loop is known for). The event benefits the Haymarket Center located on the festival grounds. Its mission is to aid people with substance use disorders in their recovery by providing comprehensive behavioral health solutions.
chicagoevents.com
Square Roots Festival – Lincoln Square, Chicago
Square Roots brings together the best of Lincoln Square, Chicago, and beyond, with live music, family fun, local restaurants and vendors, and the best craft beer showcase of any Chicago street fest.Join us in Chicago's Lincoln Square neighborhood on Lincoln Avenue between Montrose & Wilson. Easily accessible from CTA Brown Line Western stop. Square Roots runs Friday, July 8, 5-10 p.m., Saturday, July 9, noon-10 p.m. and Sunday, July 10, noon-9 p.m.
squareroots.org
Cruel Intentions The 90's Musical Tickets until Aug 9 at the Chopin Theater
Kokandy Productions presents Cruel Intentions The 90's Musical starting Thursday, June 9, 2022 to Sunday, August 7, 2022, at Chopin Theatre, Chicago, IL. Find event and ticket information.
www.eventbrite.com
Spend a Day Out With Thomas™ at the Illinois Railway Museum
Join Thomas, Percy, Sir Topham Hatt, and all their friends for an unforgettable day of fun and adventure! Ride with Thomas and Percy, see magic shows and storytelling, and enjoy a variety of family activities. All Aboard for big adventure and bigger memories!
www.irm.org
WNBA Live Presented By U.S. Bank to Launch as Part of AT&T WNBA All-Star 2022 Weekend Celebrations – WNBA.com – Official Site of the WNBA
Two-Day Outdoor Fan Experience Presented by U.S. Bank to Be Held at McCormick Place in Chicago as Part of WNBA All-Star Festivities
www.wnba.com
Chicago Magic Shows & Tickets | Magic Parlour
Performing 5 shows weekly at the Palmer House. 
Experience Jaw-Dropping Magic.
Step into the grand Palmer House lobby and meet 3rd Generation Magician and Mind-Reader Dennis Watkins.Bask in the glamour of historic Chicago as Watkins guides you through the legendary hotel and into a private ballroom. Grab a glass of wine, settle in and reconnect with your sense of childlike wonder as miracles unfold inches in front of your eyes, and even in your own hands.
www.themagicparlourchicago.com
Chicago – Bubble Run July 9
Participants will experience four bogs of colored suds (red, green, blue, and yellow) as they complete the race. These foam stations will create a wall of bubbles to shower participants with colorful, fun, eco-friendly, and non-toxic bubbles. $25 – Solider Field at 6am
bubblerun.com
The post Ep6: Weekend of July 9-10, 2022 appeared first on Life on CHI.
---
Download Episode