Chicago Events - Life on CHI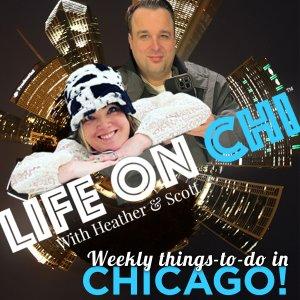 Ep5: Weekend of July 2-3 and Independence Day
June 28, 2022
Have a happy and safe 4th of July weekend! Here's a list of where and what you can do to have fun right here in Chicago over the holiday weekend. Save time and gas money by staying local or if you're visiting our city, check out some of the best things to do so you can play like a local.
Fireworks shows near me: Full list of 4th of July 2022 firework displays across the Chicago area, including Lombard, Oswego
Looking for fireworks shows in the Chicago area? Check out our full list of 2022 firework displays across the city and suburbs.
abc7chicago.com
Get out on Chicago's front lawn for the Grant Park Music Fest's:
July 2: Independence Day Salute The 2022 Grant Park Music Festival
Gather your family and friends for some good old-fashioned fun with the Grant Park Orchestra and Chorus. Christopher Bell serves up a star-spangled concert of patriotic favorites, including the toe-tapping 
Armed Forces Salute
, Irving Berlin's swingin' 
In the Mood
 and a fanfare by film legend John Williams.
www.grantparkmusicfestival.com
Museum of Ice Cream Chicago
Museum of Ice Cream is now SCOOPING in Chicago! Visit our world-famous attraction today. Experience our multi-sensory installations. Tickets are selling FAST!
www.museumoficecream.com
MEETUP: July Potluck Picnic in the Park – Lincoln Park, Sat, Jul 2, 2022, 12:00 PM
Back by popular demand, another potluck picnic! Our last one was at a nice spot with sun and shade, so I figure let's meet up there again in Lincoln Park on the large patch
www.meetup.com
Chosen Few DJs Festival
Founded by Wayne Williams in 1977, the Chosen Few Disco Corp., a group of popular DJs from Chicago's South Side – Williams, Jesse Saunders, Tony Hatchett, Alan King and Andre Hatchett – were part of the first wave of DJs and producers in Chicago who created the sound that became known as House Music. Later naming themselves the Chosen Few DJs, the collective first played their unique brand of soulful dance music to huge crowds throughout Chicago, then spread their sound across the world.
chosenfewdjs.com
39th ANNUAL AMERICAN MUSIC FESTIVAL at Fitz' Berwyn
Born in 1981, FITZGERALDS American Music Festival has grown from a three-band barbecue night to a critically acclaimed four-day affair drawing thousands of music lovers each year. With a particular nod to both New Orleans, LA, and Austin, TX this celebration of Roots Music and backyard cooking serves die-hard music fans, families, and foodies alike. It's the annual culmination of all that we do and care about, and it's a good damn time.
www.fitzgeraldsnightclub.com
Graham Foundation EXITS EXIST (Closing July 9)
The Graham Foundation is pleased to present 
Exits Exist
, an exhibition by San Francisco-based Barbara Stauffacher Solomon (b. 1928), that features site-specific supergraphics for the Graham Foundation's Madlener House, accompanied by a selection of works on paper, a new series of sculptures, and artist's books she has made over the last decade. 4 W. Burton Pl (Gold Coast) Free admission, reservations required
grahamfoundation.org
Ed Paschke Art Center To Reopen In Jefferson Park Next Year
The reopening of the Ed Paschke Art Center, which has been closed since March 2020, is part of the anticipated Northside Cultural District planned for Jefferson Park's downtown area.
blockclubchicago.org
The 2022 Newberry Book Fair at the Newberry Library (Gold Coast)
Chicago's most popular used-book sale is back! Browse through thousands of books in dozens of genres, including fiction, philosophy, history, art, cooking, children's literature, and much, much more. With many items priced at $3 or less, you can stock up on new reads and expand your own personal library on the cheap. Admission is free.
www.newberry.org
Weird event of the week
Sex Tips for Straight Women from a Gay Man at the Greenhouse Theater Chicago
Part romantic comedy, part interactive sex tip seminar, "Sex Tips for Straight Women from a Gay Man" takes audiences on a hilarious and wild ride where no topic is taboo and the insider tips come straight from the source: a gay man.Performing every Thursday, Friday, and Saturday at 8pm, 
Sex Tips
 promises to be the only interactive show in Chicago aimed at making the entire planet a funnier AND sexier place to live, one tip at a time! Greenhouse Theater Center2257 N Lincoln Ave
www.sextipsplay.com
The post Ep5: Weekend of July 2-3 and Independence Day appeared first on Life on CHI.
---
Download Episode