Chicago Events - Life on CHI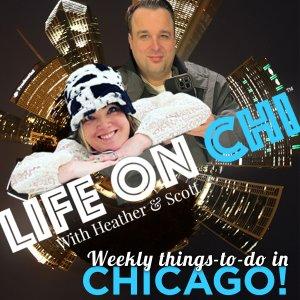 Ep4: Chicago Events for the weekend of June 24-26
June 21, 2022
Our weekly Chicago events roundup includes the Chicago Pride Parade and festivities, suburban festivals, and more. Have a great weekend and enjoy our beautiful City of Chicago.
Chicago Pride Month | Find Pride Fest, Parade & LGBTQ Events
Pride Month in June always ends with the Chicago Pride Parade, a famous 4-mile-long LGBTQ event that is held annually on the last Sunday of June to celebrate our LGBTQ community.
www.choosechicago.com
South Loop: Chicago Food Truck Festival
Chicago Food Truck Festival is one of America's largest annual gatherings of gourmet food trucks and foodies who enjoy tasting the best of Chicago's food trucks.
www.chgofoodtruckfest.com
River North Live!
At this unique three-day music festival, guests will enjoy a variety of top musical acts throughout the weekend, while taking advantage of fabulous food and drink offerings from River North and beyond, all against a backdrop of Chicago's world-class architecture and breathtaking river views.$10 – $100 River Park at theMART: 222 Merchandise Mart Plaza
www.rivernorthlive.com
Kenny Chesney: Here and Now Tour
Soldier Field, Chicago, IL
www.ticketmaster.com
Taste of Chicago: Little Village :: Taste of Chicago Neighborhood Series
Enjoy a slice of Taste of Chicago in the Little Village neighborhood with an exciting array of local and citywide food vendors showcasing the diversity of Chicago's culinary scene. Attendees can taste everything from authentic Mexican desserts such as Gazpacho Moreliano from Razpachos and Don Paletas's refreshing Mexican-style ice pops to Auntie Vee's mac & cheese, Chicago's Doghouse gourmet sausages, and Yum Dum's popular steamed dumplings. With a full lineup of free musical performances including Jarochicanos, celebrating the musical tradition of Son Jarocho, Malafacha bringing their Reggae and Latin rhythms and more, it's an event not to be missed.
www.chicago.gov
Fine Art Fair at Naper Settlement
Since 1959, the Naperville Woman's Club has presented a free art fair in the summer. The longest continuously running art fair in Illinois, this event brings a weekend of art and artistry to Naper Settlement in a free, fun, and family-friendly environment. The event features over 100 artists, a Silent Auction, Empty Bowls fundraiser for food pantries, a free children's activity tent, an interactive Community Mural, 3D chalk artist, a balloon artist, music, and food.  
www.napersettlement.org
2022 Deer Park Art Show
Don't forget to sign up for emails to receive alerts about our annual art fairs, featured artists, gift guides, and live art demonstrations.
amdurproductions.com
Strawberry Fest in Historic Downtown Long Grove
As Illinois' first historic district, Long Grove's charm is distinctively real. Visitors from near and far come to enjoy our relaxed pace and interesting mix of local shops, restaurants, services, and entertainment,
longgrove.org
Chicago Friday Night Flights | Craft Beer Tasting Events Bridgeport
Join us in Bridgeport for a celebration of South Side brews. Enjoy beer from the breweries across the South SIde including Pilsen, Bridgeport, Beverly, and the South Loop. Kimski will be our special guest food partner serving up culinary treats to go with your craft beer.
www.choosechicago.com
GOLD COAST GREEK FEST
A full weekend of fun awaits guests who will enjoy authentic Greek food, beer, wine and frappe, desserts, live entertainment, dancing, and fun activities for the kids. 
Event Website
FREE – LaSalle and Oak St.
www.meetup.com
Mandala Makers Festival – Mandala Arts Chicago
(Devon Ave)
Mandala Makers Festival is an annual event in Chicago. We support arts from India, Pakistan, Bangladesh, and Nepal. See free Music and Dance by local artists. Multiple Locations and Devon AveThe culmination of the Mandela festival
makersfestival.mandalaarts.org
Logan Square Arts Festival
The Logan Square Arts Festival is a three-day celebration of the diversity and vitality of Chicago's Logan Square neighborhood. The festival features two stages of live music, visual art, performance art, dance, food, and drinks, in the heart of Logan Square. Come celebrated the first weekend of the summer on Logan Square, one of the most iconic green spaces in the city of Chicago.
www.logansquareartsfestival.com
Taste of Highland Park | Music, Food & Fun
The Taste of Highland Park returns in 2022 with a lineup of exceptional music and delicious cuisine from Highland Park chefs. Saturday and Sunday
www.enjoyhighlandpark.com
Abilities Expo Chicago: Explore our Events, Workshops, and Exhibits
Abilities Expo Chicago: Where else can you find everything you need for people with disabilities?Schaumburg Convention Center JUNE 24-26, 2022 Free
www.abilities.com
June 25: Olmsted in Chicago: Jackson Park Walking Tour
In celebration of the 200th birthday of Frederick Law Olmsted, author, conservationist, social reformer, and America's seminal landscape architect. Olmsted and his successors designed some of Chicago's most beloved and important green spaces. Julia Bachrach leads free walking tours of Frederick Law Olmsted's iconic Chicago landscapes: Jackson Park, 
Washington Park
, and the 
Midway Plaisance
. Jackson Park 6401 S. Stony Island Ave. Free
www.eventbrite.com
Geneva Swedish Days
Thousands of visitors come to Geneva for festivals & events sponsored by the Geneva Chamber of Commerce. Each one, while unique, offers days of fun and exciting activities.
www.genevachamber.com
Sommerfest on the Terrasse DANK Haus Chicago
Are you ready for summer? We sure are! Come celebrate the arrival of summer with us at the DANK Haus! Our very first Sommerfest will be taking place on the terrace Friday, June 24th from 6-10 PM! The beer will be cold and the brats will be hot! Cool off with a drink while you take in the breathtaking views of the city and have a front-row seat to the debut performance of Chicago's newest Alpine Folk Band: The Dirndolls! 
dankhaus.com
Wauconda Fest 2022 – Wauconda Park District
Community festival featuring music, carnival, food and a car show.
www.waucondaparks.com
HomerFest
Community festival featuring music, carnival, food and more.
www.homerfest.com
Scott's weird event of the week
Chicago Seltzerland Plumber's Hall (West Town)
Enjoy this one-of-a-kind immersive experience as you spend the afternoon tasting 100+ unique hard seltzers. Indulge in mouthwatering munchies, and tons of Seltzer swag, and you better plan on busting out the gram for an epic photoshoot.$39 – $591340 West Washington Boulevard
www.eventbrite.com
The post Ep4: Chicago Events for the weekend of June 24-26 appeared first on Life on CHI.
---
Download Episode