Chicago Events - Life on CHI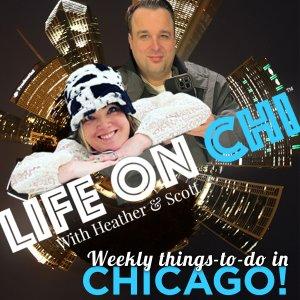 Ep3: Weekend of June 17-19, 2022
June 14, 2022
Happy Father's Day and Celebrate Juneteenth!
CHICAGO PRIDE FEST
The weekend before the 2022 Chicago Pride Parade (June 26), the Chicago Pride Fest returns for 2 days: June 18-19. The street festival features live music by headline artists and local favorites, 3 stages, food and drink, 100+ arts/crafts vendors, DJ's and dancing, drag shows, pet parade, vendors, games, giveaways and more.N. Halsted St. and Waveland Ave. (Northalsted) $15 suggested donation
chicagoevents.com
Taste of Randolph – $15 – StarEvents
Commemorating the iconic street festival's 25th Anniversary with a gathering of the biggest and brightest names in Chicago dining, featuring over 16 restaurants exemplary for delectable menus and irresistibly unique flavors. Hear the nation's hottest up-and-coming bands and musicians, as well as the biggest names in Chicago house music, performing on two stages.900 W. Randolph (West Loop) $15 suggested donation
www.starevents.com
Festival on the Square — Juneteenth Celebration of Black Creativity at the Congo Square Theatre
Congo Square Theatre presents its 2022 Festival on the Square–a celebration of arts, healing, and Black joy, including live music, theatrical readings, vendors and more at the Congo Square Theater. Juneteenth, June 19, 2022 1016 N. Dearborn Ave (Gold Coast)
www.congosquaretheatre.org
Wrapping up: Crossings: Mapping American Journeys | Newberry Library
Take four historic routes across the United States. Maps, guidebooks, travelogues, postcards, and more from the Newberry's collection recreate travelers' experiences along the northern and southern borders of the US, across the continent's interior, and up and down the Mississippi River. Until Saturday, June 25, 2022; open Tuesday – Thursday, 10 am – 7 pm; Friday and Saturday, 10 am – 5 pm.60 West Walton Street – Free
www.newberry.org
2022 Gold Coast Art Fair
Celebrating 64 years, the Gold Coast Art Fair returns to Chicago's Grant Park. This award-winning, family-friendly art fair welcomes 200 juried artists from around the country and draws thousands of enthusiasts.Paintings, sculpture, jewelry, ceramics, mixed media, and more are on exhibit and available for purchase. Live music stages in various locations along with food, beer, wine, and sangria add to the festive atmosphere. Supports the Chicago Furniture Bank and art donations are accepted.$10 admission per person, per day; kids 12 and under are free Grant Park: South Lake Shore Drive at Monroe
amdurproductions.com
2022 RibFest – Hosted by the Exchange Club of Naperville
Exchange Club of Naperville's Ribfest is dedicated to the elimination of domestic abuse and violence. June 17 through June 20 at the DuPage Event Center and Fairgrounds in Wheaton, IL.A list of performances, food and of course Ribs in a county fair-style atmosphere. Proclaims the Best BBQ You Will Ever Taste.$10 per day2015 Manchester Road, Wheaton
www.ribfest.net
Acorn Concert Series at Gabis Arboretum in Valparaiso, IN
The Acorn Concert Series at Gabis Arboretum at Purdue University Northwest offers fun outdoor summer concerts in a range of musical genres.MegaBeatles Kicks off Summer Concert Series on Friday at 7 pm Tickets: $15 in advance and increases to $20 the week-of for non-members450 West 100 North, Valparaiso, IN
www.pnw.edu
Taste of Pullman (Taste of Chicago)
Taste of Chicago Pullman brings food vendors, music, and Chicago SummerDance classes to the neighborhood. Guests can fill up on tasty ribs, artesian sandwiches, exotic and gourmet sausages/hot dogs and more, then dance it off with free introductory lessons followed by music.Saturday, June 1812-8 pmPullman Park, 11101 S. Cottage Grove
www.chicago.gov
57 Chicago-area farmers markets in 2022, mapped
Chicago-area farmers markets are ramping up for spring and summer. Here's our searchable map and list of 57 markets in the city and suburbs for 2022.
www.chicagotribune.com
Just Planted: Alebrijes: Creatures of a Dream World – Cantigny Park Wheaton
Enjoy our parkwide outdoor art exhibit featuring dozens of imaginary creatures inspired by Mexican folklore. "Alebrijes: Creatures of a Dream World" is on display through October plus the 1st Division Museum.$5 per car on weekdays; $10 on weekends8 a.m. – sunset Daily1S151 Winfield Road, Wheaton
cantigny.org
Flourish: The Garden at 50
Flourish: The Garden at 50 is four-plus months of experience, art, and joy. Art installations will connect visitors with nature in new ways. Interactive performances throughout the Garden will surprise and delight. An exhibition in the Greenhouse Galleries will take visitors back in time and transport them to an imagined future for the Garden. Parking now costs $8 but new admission tickets vary from a low of $9.95 per adult (or $11.95 for residents outside Cook County) up to $25.95 for non-members. But all of the extra items such as the railroad garden and tram ride are now included. Expect the more expensive price to be charged during periods when demand is higher.1000 Lake Cook Road, Glencoe, IL
www.choosechicago.com
Lightscape at Chicago Botanic Garden
The acclaimed holiday event returns, with a new path and new light-filled installations created just for the Chicago Botanic Garden. Explore the whimsy of nature in winter through music, light, fire, and color. Featured artistic works will include favorites such as the luminous Winter Cathedral and a reimagined fire garden. November 11, 2022 – January 8, 2023Approx $30 per adult; $15 per child Ticket sales open to the public on June 15.
www.chicagobotanic.org
Chicago Day – Illinois Railway Museum
On Chicago Day, the Museum commemorates the 64th anniversary of the last day of streetcar operation in Chicago. The past lives on as you ride streetcars, 'L' trains, interurbans, and commuter trains that served Chicago.Museum grounds are open at 10:00am – 6:00pm.Adults $16, Senior $14, Children $127000 Olson Road, Union, Illinois, 60180
www.irm.org
The post Ep3: Weekend of June 17-19, 2022 appeared first on Life on CHI.
---
Download Episode