Chicago Events - Life on CHI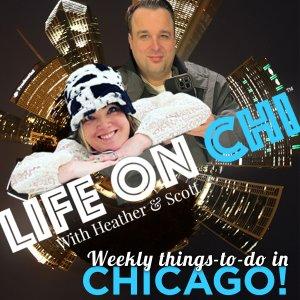 Ep2: Chicago events & openings for June 9-12
June 07, 2022
Hello from Life on CHI! Listen in for Chicago events keep rolling in with a jammed-packed weekend of arts, culture, music and more plus a few cool new attraction openings.
FREE! Chicago Blues Festival June 9 – 12
With a diverse lineup celebrating the blues' past, present and future, the Chicago Blues Festival shares the great Chicago-born music tradition while shining a spotlight on the genre's contributions to soul, R&B, gospel, rock, hip hop and more.
www.chicago.gov
Parkway Bank Park "Rockin' in the Park" – Village of Rosemont – June 9
Thursday, June 9: Led Zeppelin 2*
 – Drenched in satin and denim, Led Zeppelin 2 delivers intense, raw energy similar to the legendary rock 'n' roll group. The band recreates the sight, sound and pure rock 'n' roll euphoria of Led Zeppelin, while also bringing life to new improvisation and onstage interaction.
rosemont.com
Midsommarfest – Andersonville June 10 – 12
Following a two-year hiatus due to the COVID-19 pandemic, the Andersonville Chamber of Commerce (ACC) is pleased to announce the return of Andersonville Midsommarfest, one of Chicago's oldest and most beloved summer street festivals. Now in its 56th year, the annual festival will be held June 10 – 12, 2022 along Andersonville's Clark Street corridor.
andersonville.org
44th Annual Puerto Rican People's Day Parade 2022
The Chicago Puerto Rican Parade will be held in Humboldt Park Saturday, June 11th at 2pm on Paseo Boricua (Division Street from Campbell to Sacramento Blvd). Enjoy the FREE parade.
prcc-chgo.org
Puerto Rican Fest Humboldt Park Chicago June 9 – 12
Fiestas Patronales Puertorriqueñas in Humboldt Park Chicago Celebrating with the People's Puerto Rican Day Parade, Midway Carnival Rides & Games and Festival!
www.puertoricanfest.com
Hyde Park Summer Fest June 11-12
Busta Rhymes, Ashanti, Lupe Fiasco and more at the Midway Plaisance from Noon to 10pm Saturday and Sunday.
hydeparksummerfest.com
WELLS STREET ART FESTIVAL June 11 – 12
A diverse mix of nearly 125-plus juried artists from both the region and across the nation. Other weekend highlights include the tasty cuisine from the neighborhood's eclectic restaurants and cool music stage acts as well as kids' art activities.
chicagoevents.com
Old Town Art Fair June 11 – 12
Old Town Art Fair takes place on Saturday, June 11 and Sunday, June 12, 2022, in the heart of the charming Old Town Triangle Historic District in Chicago.
www.oldtownartfair.org
Ravenswood on Tap Craft Beer Fest | June 11 & 12
At Ravenswood On Tap you'll enjoy beer from Malt Row breweries, craft cocktails, special tappings, live music, local food & artists, and more.
ravenswoodchicago.org
Prince: The Immersive Experience – Chicago Premiere June 2022
An interactive trip through the music and life of Prince. Tour 10 interactive spaces of Prince's purple universe at Prince: The Immersive Experience. Visit the Shops at North Bridge in Chicago for the Interactive Attraction.
princetheexperience.com
Lockport Canal Days June 9 – 12
Parade, Carnival, Artisan Market, Music, Fireworks and more.
oldcanaldays.com
Railroad Daze | Village of Franklin Park
The Village will host its annual four-day festival from June 9 through 12. The event will feature a daily carnival, free live music, food vendors and a Beer & Wine Garden! The Village is pleased to again include a Railroad Day component to the Fest on Saturday.
www.villageoffranklinpark.com
Saturday, June 11 – American English @ Berwyn Public Library
American English captures the very essence of John, Paul George, and Ringo. Every musical and visual detail is magically shaped in a colorful journey back in time. Come hear Beatles classics She Loves You, Twis…
berwynlibrary.libcal.com
Northern Illinois Pottery Tour – June 11 – 12
June 11th and 12th, visit 4 stops and meet 20 potters on the Northern Illinois Pottery Tour!
www.northernilpotterytour.com
Rock Cats Rescue Inc – Various Performances
A purrfect event with the one and only acrocats
rockcatsrescue.org
The post Ep2: Chicago events & openings for June 9-12 appeared first on Life on CHI.
---
Download Episode