Chicago Events - Life on CHI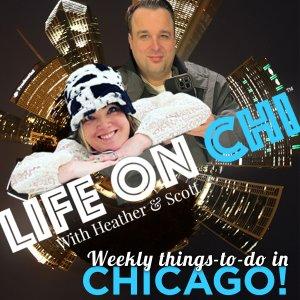 Ep1: Chicago events for the weekend of June 3-5
June 02, 2022
Welcome to our first episode! We're Life on CHI and we're all about sharing fun things to do in Chicago and surrounding areas. Join us for weekly updates on cool events, concerts, festivals, and more here in the Windy City. This week is sort of the first unofficial weekend of summer and we're bringing you a round-up of all things fun to do across the city.
All Weekend: 2022 Uptown Art Week
The 3rd Annual Uptown Art Week will feature over 150 pieces of public art including more than 50 new works painted live around the neighborhood, art exhibits being hosted by local businesses, and interactive art activities for all ages.
exploreuptown.org
All Weekend: Mayfest Chicago
Maifest
 has been an annual festival brought to you by the Mayfest Committee, President Joe Matuschka and Vice President Joe Bradtke. Special thanks go to 47th Ward Alderman Matt Martin.
www.mayfestchicago.com
All Weekend: Chicago Gospel Music Festival – Grant Park
Celebrating the great influence of the music genre born in this city more than 80 years ago, the Chicago Gospel Music Festival will present the top gospel artists in the country.
www.chicago.gov
Saturday: Infinity Foundation presents the Chinese Garden Field Trip to Ping Tom Park (Chinatown) lead by Yvonne Wolf
Appreciate the principles of garden aesthetics as defined by Confucianism and Daoism.
www.infinityfoundation.org
All Weekend: Heavy Weights Graffiti Art Festival
Catch Wreck LLC presents Heavy Weights Graffiti Art Festival – Saturday, June 4, 2022 | Sunday, June 5, 2022 at Crawford Steel Company, Chicago, IL. Find event and ticket information.
www.eventbrite.com
Sunday: The Music of Randy Travis
The Music of Randy Travis Tour featuring country singer and his co-star in The Price, James Dupré.
desplainestheatre.com
Friday: Fort Sheridan Historical Society Cemetery Walking Tour
Small group tours will be led by docents beginning at 10 AM. Each tour will last about 1 hour. Tours involve walking on uneven, grassy surfaces through the cemetery.
fshistorical.wixsite.com
HOME | 57th-street-art-fair
Experience the oldest juried art fair in the Midwest, meet and browse high quality work by 132 artists, and celebrate the arts in the heart of Hyde Park! 
www.57thstreetartfair.org
Do Division Current | West Town Chamber
Your description for this link…
www.westtownchamber.org
Lincoln Park Greek Fest – June 3 – 5, 2022
June 3 – 5, 2022
www.lincolnparkgreekfest.com
WINDY CITY HOT DOG FEST – Special Events Management
We'll let you decide if you want ketchup or not at the inaugural Windy City Hot Dog Fest happening Saturday & Sunday, June 4-5 in Chicago's Portage Park neighborhood. Some of Chicagoland's favorite hot dog stands will compete for who has the best frankfurter! And you get to be the judge! Plus, in addition to tasty dogs, patrons will get to listen to great local and regional acts on the event's mainstage. Plus, don't miss the kids' area, arts & crafts vendors and a top dog parade on Sunday!
chicagoevents.com
The post Ep1: Chicago events for the weekend of June 3-5 appeared first on Life on CHI.
---
Download Episode