ChamberCast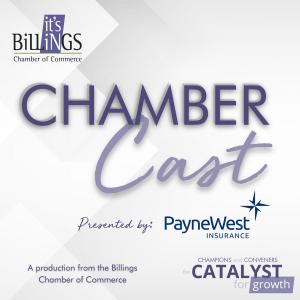 Rocky Vista University
July 27, 2022
This week we sat down with Dr. David Park, the founding dean of Rocky Vista University to get an update on one of the most exciting developments taking place in Billings right now.
Jack and Cathy's answers to this week's Rorschach questions:
1. What is a new development in medicine you are excited about?
Jack: I think the possibilities for other uses for mRNA vaccines (like Pfizer's Covid-19 shot) are really exciting!
Cathy: Increased access to telemedicine and virtual care models in situations that remote medical care is an option.
2. What is the best restaurant within 5 minutes of RVU? 
Jack: Lucky's Ramen Noodles
Cathy: Dimond X Beer Co
3. What is a career path outside of medicine you think young people should be paying more attention to?
Jack: I'll refer back to our episode with Kevin Ploehn and point out that there is a huge pilot shortage right now. If a young person has the disposition to be a pilot, they could do quite well for themselves by going into that field.
Cathy: Skilled trade labor positions such as plumbers, electricians, and other skilled trades.
---
Download Episode