ChamberCast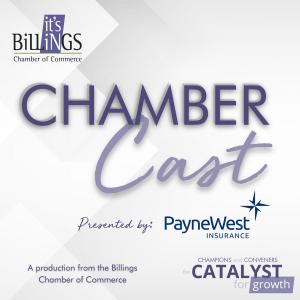 On the Trail with Southeast Montana
May 18, 2022
One of the most exciting projects lately has been Visit Southeast Montana's Burger Trail. Brenda Maas and Cassie Solberg joined us this week to show off their new project!
Marya and Jack's answers to this week's Rorschach questions:
1. What is one place is Southeast Montana that everyone from Billings should visit?
Marya: Bighorn Canyon National Recreation Area.
Jack: Main Street Miles City
2. What is one place in Billings everyone from Southeast Montana should visit?
Marya: ZooMontana
Jack: I would recommend some food you probably can't get in a smaller community. I have been working on my parents to check out Lucky's Ramen Noodles.
3. What is your favorite travel hack? 
Marya: I'm with Cassie – always ask the locals where to eat.
Jack: Pack your bag tight. There are a lot of tips and tricks out there on how to pack more in a smaller bag, like packing your socks in your shoes that allow you to make room for souvenirs or pack alternative outfits without having to bring a huge suitcase.
---
Download Episode