ChamberCast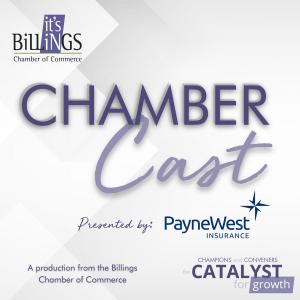 Jeff the Nature Guy
April 06, 2022
Tourism is a big part of our local economy, so who better to talk to than the executive director of one of our largest attractions -- Zoo Montana -- and the Chair of the Board of Visit Southeast Montana, Jeff Ewelt.
For more on Visit Southeast Montana, check out our episode with Brenda Maas, the Director of Visit SEMT: Visit Southeast Montana Tourism
Marya and Jack's answer's to this week's Rorschach questions:
1. What are you most hopeful for, for the future of Billings?
Marya: I think Billings is right on the edge of explosion in the areas of arts, culture, diversity and economic growth. It is going to be an exciting time to be living here in our great city.
Jack: Billings is going to reach a critical mass at some point where the population will be large enough to support true urbanism and the amenities we all want. My hope is that we can maintain our proximity to agriculture and nature. I would love to see Billings be the closest you can find a skyscraper and an alfalfa field together.
2. What is your favorite animal?
Marya: My favorite animal is an Okapi. I think they are so interesting – a weird conglomeration of zebra, elk, moose, and giraffe? I don't even know but seriously google them!
Jack: I always look forward to seeing the tigers when I go to the zoo. I've seen them play with each other a couple of times and they really are just giant kitty cats!
3. What is your biggest challenge in your job? 
Marya: It can be extremely difficult interacting with people that don't understand or really get what it that the Billings Chamber does, and their unique relationship with Visit Billings and Visit Southeast Montana. I think if people really understood all of the amazing work that these three entities do for the area, it would change conversations and perceptions.
Jack: The hardest part is getting people to care about local politics.
---
Download Episode