ChamberCast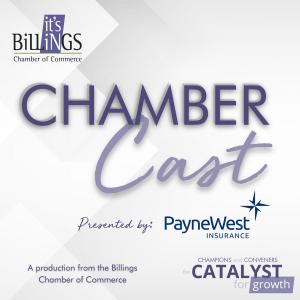 Flipping the BURD
February 09, 2022
The East Billings Urban Renewal District (EBURD) is an important part of our economic future. The director of the BURD, Zack Terakedis joined us this week to talk about all of the exciting projects currently underway. There is a lot to be excited about in this episode!
Marya and Jack's answers to this week's Rorschach questions:
1. What are you most excited about in the EBURD?
Marya: For more development and more people spending time in that area of town. It is really going to take Billings to the next level!
Jack: I'm really excited about the possibility of more high-density housing being developed in that area to give more people the opportunity to walk or bike to work.
2. What is the biggest professional setback you have had to overcome?
Marya: When I turned 40, I quit my job and previous career and started over by working to get my degree. It felt like a huge setback at the time, but now I see it as the best possible growth and change.
Jack: I am fairly early in my career, so I'm sure the best and worst is yet to come.
3. Tell us something related to the arts you are excited about.
Marya: I am excited to see what the arts and culture community in Billings comes up with next. They have some big things up their sleeves and I really think Billings is going to have an explosion of creativity coming our way in the next year or so. Now if only they would tell us what they are up to!
Jack: I am also excited for summer to get out and enjoy some outdoor displays.
---
Download Episode