ChamberCast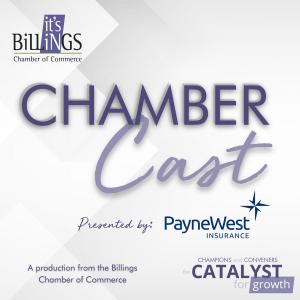 Sports Tourism in South Billings
December 15, 2021
You might have heard about the potential development of an Aquatics and Recreation center in South Billings. Many Billings residents are excited by the idea of this facility, but it would also have a big impact on our economy by attracting visitors. Alex Tyson from Visit Billings and Dick Zier from the South Billings Urban Renewal Association joined us this week to update us on this exciting project and its impact on sports tourism.
Marya and Jack's answers to this week's Rorschach questions:
1. What is your favorite sport to watch?
Marya: Live – Hockey. On television - Football
Jack: I haven't watched a sporting event in years, but I can always get into a high school football game.
2. What is the best sporting event you watched recently? 
Marya: Cat/Griz game this year - Go Griz!
Jack: Probably the last Rocky/Carrol volleyball game I watched when I was still a student..
3. What is your favorite holiday treat?
Marya: Cathy Grider's crack popcorn. 
Jack: My mom's homemade fudge.
4. What is the best way to spend a Saturday in Billings?
Marya: Going for a walk or getting on a trail, doing some shopping, having some craft cocktails and a spectacular meal at a local restaurant, and then close out the day on my deck in south Billings.
Jack: This time of year, that would have to be a day out shopping and enjoying all of the pomp around Christmas time.
---
Download Episode