ChamberCast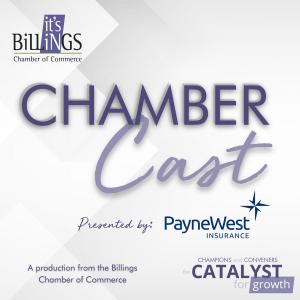 The Base Camp
December 01, 2021
It's Keep the Cheer Here week! Now is the time to get out and shop local. One of the fantastic businesses you should visit is The Base Camp. In the meantime, enjoy this interview with the owner, Scott Brown, who has a fascinating and entertaining story about how he started the business and some great advice for business owners.
Also check out our episode with Lynn Harper on TrailNet and Billings Trails.
Marya and Jack's answers to this week's Rorschach Questions.
1. What is your favorite trail in Billings?
Marya: Norm Schoenthal Island – I love walking my dog, or playing by the river, or even snowshoeing in the winter. It's such a treasure.
Jack: Zimmerman Trail. The views up there are unbeatable.
2. Where have you found inspiration lately? 
Marya: From my husband. He is always creating something new or building/designing things in his head and in reality. It reminds me that it's okay to create for the pure joy of it and not necessarily to achieve.
Jack: This past City/County election gave me a lot of professional inspiration. After that, I feel like a lot more things are possible for us.
3. What are you looking forward to most this holiday season?
Marya: Time off to spend with my family.
Jack: I always look forward to shopping for Christmas . I love giving great people great presents.
---
Download Episode