ChamberCast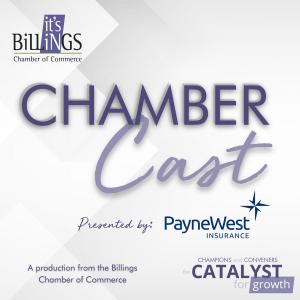 Ace Hardware
November 17, 2021
As we start to look ahead to this holiday season, we want to shine a spotlight on some local businesses. This week, please enjoy our conversation with Skip King, owner of King's Ace Hardware.
Here are Marya and Jack's answers to this week's Rorschach questions.
1. Why do you hang your hat in Billings?
Marya: I was born and raised here in Billings and my family lives here. I can't imagine living anywhere else – I love Montana.
Jack: I fell in love with Billings when I moved here to go to college at Rocky. There is a great mix of opportunity here, and you really can afford a lot higher quality of life here than you can elsewhere. I also think Billings is headed in the right direction in terms of growth and amenities.
2. What is the best thing that has happened to you recently?
Marya: My daughter, son-in-law and 14 month old grandson have been visiting for a month and I have loved having them close.
Jack: The best day of my life so far was a little over a year ago when I got married.
3. What is your favorite power tool brand? 
Marya: My husband would kill me if I didn't say Milwaukee. Only red tools are allowed at our house.
Jack: I used to have a job selling Milwaukee, Rigid and Ryobi tools (I worked for the parent company). Milwaukee has the best product on the market, but I have a soft spot for Ryobi; they're super affordable, they make products no one else would make, and I think they have empowered a lot of people to do things they otherwise wouldn't do.
4. What is your must-have thanksgiving food and what could you do without?
Marya: My must have is pumpkin pie. I could do without the rest actually. Can we just have pie for dinner?
Jack: To me, it is not Thanksgiving without Stovetop stuffing; normally I'm all about making things from scratch, but that just really scratches a nostalgic itch for me. I could do without the green beans or honestly even the potatoes.
---
Download Episode