ChamberCast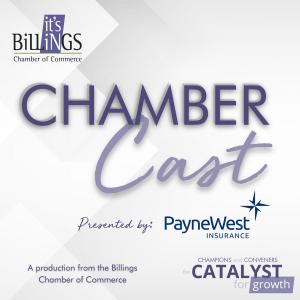 Cybersecurity for All
October 06, 2021
October is Cybersecurity Awareness Month. Cybercrime is a risk for everyone--individuals and businesses, no matter how small. Dena Johnson from Payne West Insurance is one of the foremost experts in Billings on this topic and our guest for this week's episode.
Cybersecurity Resources from Payne West
Shred It? File It? Or Recycle It? – PayneWest Insurance
Marya and Jack's answers to this weeks Rorschach questions:
1. What does the perfect day in Billings look like for you? 
Marya: Spending time with family and friends: walking at Norm's Island with the dog, grabbing coffee from one of our local cafés, shopping around town, and then maybe a great dinner at Walker's, Jake's, or The Vig together!
Jack: My perfect day also includes some downtown and some west end shopping and maybe some breakfast at Stella's, some time in the garden, and finally hosting friends for dinner at my house.
2. What is the one thing you do every day for your mental health? 
Marya: Work out/exercise and read my bible.
Jack: I do chores. I feel better and sleep easier when the house is more put together.
3. What is your favorite sport?
Marya: Favorite sport to play is probably basketball, favorite sport to watch on television is football, and in-person is hockey.
Jack: I am really not much of a sports guy anymore. I used to love playing and watching football, but now that I no longer play the game, it isn't as much fun to watch anymore.
---
Download Episode