ChamberCast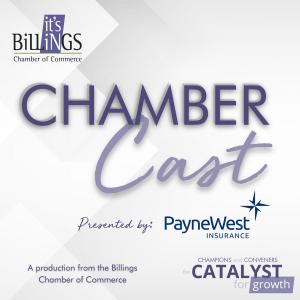 Election 2021
September 22, 2021
2021 is an election year in Yellowstone County. Councilwoman Kendra Shaw joined us this week to discuss everything on the ballot this November.
For more information on this election, to register to vote, or apply for an absentee ballot, visit the Yellowstone County Elections Office webpage. Absentee ballots will be mailed out to all registered voters who have requested one on October 13th, and Election Day will be November 2nd.
The website for Citizens for a Safer Billings is not yet available. For more information on this year's public safety mill levy, visit the City of Billings webpage on the levy.
Nearly all of the City Council Candidates will participate in a forum hosted by the Billings Chamber and Downtown Billings Alliance at the Alberta Bair Theater on September 29th at 6:00pm. To RSVP, simply email jack@billingschamber.com.
To view recordings of the Billings Chamber's Coffee with Candidates events, click here.
Marya and Jack's answers to this week's Rorschach questions:
1. What is the nicest thing someone has done for you lately? 
Marya: My co-workers literally do something nice for me at least once a day. They are a great team to be a part of.
Jack: A stranger paid for my coffee order the other day!
2 What are you most excited about for Billings? 
Marya: I am with Kendra – the water treatment/recreation facility would be at the top of my list. I love to paddleboard and kayak.
Jack: I'm excited for what Billings will be WHEN we solve all of these workforce and housing issues. I think we're nearing a tipping point toward becoming something great.
3. What is the last thing you Googled? 
Marya: Prince Andrew – because I am currently watching the Netflix series "The Crown."
Jack: The last thing I Googled was a recipe for broccoli cheddar soup.
---
Download Episode