ChamberCast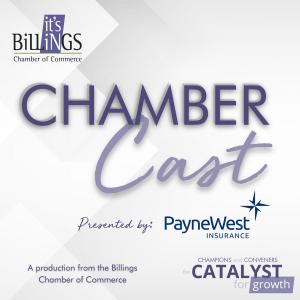 Downtown Billings
July 14, 2021
Mehmet (Mo) Casey with the Downtown Billings Alliance joins us to talk about some of the developments happening in downtown Billings. We discuss Tax Increment Financing (TIF), reverting one way streets to two-way, and downtown housing.
Video: "How does Tax Increment Financing Work?"
If you would like to email us to offer feedback, suggest a future guest, or simply ask a question, email us at podcast@billingschamber.com.
The Rorschach test, also called Rorschach inkblot test, projective method of psychological testing in which a person is asked to describe what he or she sees in 10 inkblots, of which some are black or gray and others have patches of colour. The test was introduced in 1921 by Swiss psychiatrist Hermann Rorschach. It attained peak popularity in the 1960s, when it was widely used to assess cognition and personality and to diagnosis certain psychological conditions.
Here are Marya and Jack's answers to this week's Rorschach questions.
1. Where is your favorite place to play outside in Billings?
Marya: Norm Schoenthal Island. I love to take my pitbull/boxer dog Maximus there to play in the water and hang out with other dogs! And it's a beautiful and relaxing walk.
Jack: My revealed preference would definitely be Veteran's Park, but I have a special place in my heart for Zimmerman Park; the views up there are absolutely fantastic.
2. What food do you most love to cook and then eat?
Marya: Enchiladas, fajitas, margaritas… I guess anything ending in "itas".
Jack: Definitely pork ribs. That's always been one of my favorite foods and I never thought I could make it myself... but now I have a Traeger.
3. What is your favorite downtown anywhere in the world?
Marya: Honestly, I would have to say Billings. I truly love our downtown. I have been to a lot of different "downtowns" around the world, but I love mine most.
Jack: I won't let myself say "Billings," (as much as I do love it). I'll say Washington D.C. I lived there for two months, living in the GW dorms and working in Dupont Circle, and I really enjoyed being able to walk or take the train everywhere - even if I didn't care for the weather in July.
---
Download Episode