ChamberCast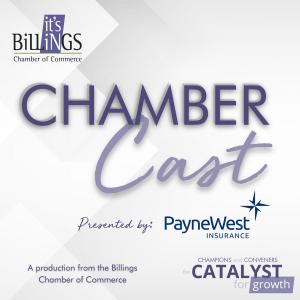 Diversity & Inclusion
June 30, 2021
William Henry and Carmelita Dominguez join us to talk about the Chamber's Diversity and Inclusion Advisory Board and its efforts to make Billings a more welcoming and inclusive community. To learn more or to get involved, email John Brewer, or check out William's website Be Better World.
If you would like to email us to offer feedback, suggest a future guest, or simply ask a question, email us at podcast@billingschamber.com.
Here are Marya and Jack's answers to this week's Rorschach questions.
1. What is your favorite way to spend some off-time with your family?



Marya: I love to cook a great meal together and then enjoy it on our amazing patio!




Jack: In our off time, my wife and I will either be in our garden or out with the dogs (recently, Centennial Park).



2. What is on your nightstand right now?



Marya: A fluff novel for the summer called Secrets of the Chocolate House by Paula Brackston, and then for more in-depth reading, The Enneagram of Belonging by Christopher L. Heuertz.




Jack: I always have a copy of The Economist and right now, I'm reading Strong Towns by Charles Marohn. I will also take this opportunity to plug my favorite recent book, The Revolt of the Public by Martin Gurri.



3. If it was your birthday, what's that one place that your family would know you would want to go for dinner?



Marya: Wherever has the best patio – my birthday is in August. So Montana Brewing Co. (the beer is the bomb) Jake's on the West End (oh those coconut shrimp!) Buffalo Block (seriously best patio around), or The Vig in the heights (love those cheese curds!)




Jack: I would have to say Blue's BBQ for lunch and Walker's for dinner.



---
Download Episode