Casually Lit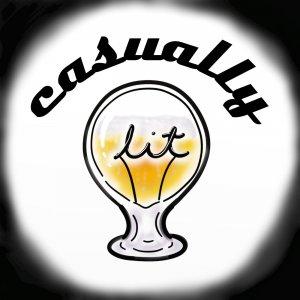 Latest Episodes

July 09, 2020
This week on Casually Lit we learn about Division Brewing, Hamilton. PS5, Days Gone, a New Version of the Wonder Years and so much more. 

July 02, 2020
We are back. Rohde visits Pecan Street Brewing and brings us 2 very nice beers. We talk Jason's Birthday, Peticolas Brewing, Martin House, PS4, and of course movies.

June 18, 2020
Well well well another hour long ramble from Casually Lit. Jason talks PS5 and Division Brewing. Caitlin tells us about the PARTY weekend and we have a blast. 

June 11, 2020
This one was interesting. We had two good ole Martin House beers to drink and they were alright. Jason discusses his love for The Regular Show, Caitlin goes beer shopping, we have decided there are no movies to look forward to and the windows are install.

June 04, 2020
Beer is good beer is good and stuff. We have new beers new topics and a fun show this week. She still hates IPAs and Jason is after that PS5. Rohde is ready for new windows and we all wonder what the future is in the theaters.

May 28, 2020
Well Panther Island we love yo beer! We had a great show where Jason talked and everyone listened. HBO Max is out and we tried 4 new beers. One of them was a smashing hit even though Jason doesn't like brown ales. Space Force is coming and POD isnt so gr.

May 21, 2020
The governor of Texas has allowed the peoples to come together and we did. ROHDE is BACK baby. We talked, yes we talked BEER. We talked Stone Cold beer, local beer, non Texas Beer, and all things beer. This is one of those do not miss!!

May 14, 2020
Well Caitlin and Jason shared their thoughts on 8 years of marriage. They also dug into some BJS, Cigar City and good ole Martin House. Jason brought up the new Rick and Morty and the clone I mean new show Solar Opposites. Also you can hear the reaction .

May 07, 2020
That right this week we join eh talk about Space Force the new Netflix show from The Office creators. Well that's part of the hour long show. We actually probably do the best we have done so far. Jason is drinking Deshutes, watching Parks and Rec, Upload.

April 30, 2020
Team Tyree is back again. We talked about the Parks and Rec special airing tomorrow. We spoke on a certain virus and how Texas is opening it's doors. Jason talked some Adema and Drowning Pool too. All in all a very topic heavy show.