Casually Lit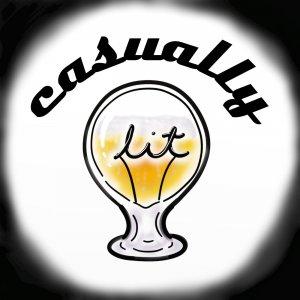 Latest Episodes

August 06, 2020
Holly Snikes we watch way too much TV. Tonight it was two beers and a lot of TV talk. We talked Ren & Stimpy, New Girl, American Horror Story, and even a Who's The Boss reboot. Yeah that's a thing. We also dove in on the new Galaxy Products and so much m.

July 30, 2020
Well Revolver Brewing has moved on from their head brewer and creator Grant Wood. This effected us in no way what so ever. We went back to Division and Rohde brought us even more deliciousness. We spoke of Tupps Brewing and their big news. we also got in.

July 23, 2020
Ever try buying limited edition POP Vinyl Figures while podacsting? Well we did and we did not do it well. We talked SDCC pops, new breweries, the end of movies, and so much more. 

July 16, 2020
Thanks to Rohde we are able to compare a two year old beer to a new one. That beer is Rosalee from Division Brewing in Arlington. Fantastic. Jason beat Day's Gone. Caitlin loves DES MONIES. We gave a quick review of Palm Springs and much much more.

July 09, 2020
This week on Casually Lit we learn about Division Brewing, Hamilton. PS5, Days Gone, a New Version of the Wonder Years and so much more. 

July 02, 2020
We are back. Rohde visits Pecan Street Brewing and brings us 2 very nice beers. We talk Jason's Birthday, Peticolas Brewing, Martin House, PS4, and of course movies.

June 18, 2020
Well well well another hour long ramble from Casually Lit. Jason talks PS5 and Division Brewing. Caitlin tells us about the PARTY weekend and we have a blast. 

June 11, 2020
This one was interesting. We had two good ole Martin House beers to drink and they were alright. Jason discusses his love for The Regular Show, Caitlin goes beer shopping, we have decided there are no movies to look forward to and the windows are install.

June 04, 2020
Beer is good beer is good and stuff. We have new beers new topics and a fun show this week. She still hates IPAs and Jason is after that PS5. Rohde is ready for new windows and we all wonder what the future is in the theaters.

May 28, 2020
Well Panther Island we love yo beer! We had a great show where Jason talked and everyone listened. HBO Max is out and we tried 4 new beers. One of them was a smashing hit even though Jason doesn't like brown ales. Space Force is coming and POD isnt so gr.