Caffeinated Comics on Radio Misfits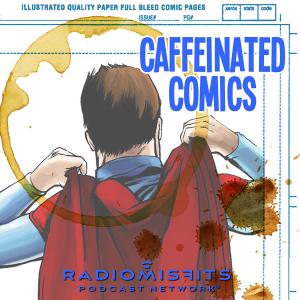 Latest Episodes

December 21, 2020
Who likes SPOILERS? Jon, Steven and Elliott Serrano go deep into the revelations of the final episode of "The Mandalorian". Was that a deep fake? What happens to Baby Yoda now? Who wants a Boba Fett show? Has Disney announced too much stuff? Plus,

December 14, 2020
Disney announces the everything! Jon, Steven, Lisa and Tina discuss 15 new Marvel shows, 10 Marvel movies, 10 Star Wars shows and 4 seasons of It's Always Sunny in Philadelphia. How do the new series affect the MCU? Is there a Phase 4?

December 07, 2020
Warner Brothers is sending all of their 2021 movies to HBO Max! Elliott and Jon discuss what that means for movie theaters. Are they done? Will drive-ins take over? And was going to the movie theater all that great an experience? Plus,

November 30, 2020
How does Star Wars do it? Jon and Steven discuss how the franchise went from an anomaly in the 1970s to a beloved trilogy to a nostalgic rebirth to 7 more films of varying success to new life with "The Mandalorian".

November 23, 2020
Marvel and DC are putting out more expensive hardcover books than ever, and they're selling out faster and faster! Jon and Steven discuss what runs are worth reading, what runs are worth reading once, and which are worth keeping in your personal librar...

November 16, 2020
Michele Sileo is back! Jon wants to talk "The Mandalorian" but Michele spent all her time watching "The Vow" and "Seduced". They talk about how innocently cults can make contact, when you know it's too late to leave and why NXIVM got so close to a Supe...

November 09, 2020
Yeah, we couldn't just geek talk this week. We had a protracted, crazy election week and Steven and Jon need to put their lib heads together and unpack it. Plus, Mandalorian season 2 is better than season 1,

November 02, 2020
Jon's on his own thinking about the iconic Scottish actor who passed away at the age of 90. Jon discusses the towering legacy of his James Bond, his work against type in "Indiana Jones and the Last Crusade",

October 26, 2020
It's an extra-long, extra spooky Halloween edition of "Caffeinated Comics"! Jon and Howie Weingarten take their time through each era of horror movies to figure out when they hit their peak. The silent era of Nosferatu?

October 19, 2020
Mike Drucker is back! The co head writer of "Full Frontal With Samantha Bee" is here to try to make sense of the world. Can we trust good news anymore? Should we hang on to terror? Should we ever go outside?Plus,