Velocity of Content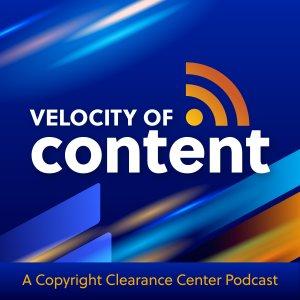 Latest Episodes

January 23, 2022
Too much information. If that's driving you insane, then you should know there are ways to focus and filter for information success.

January 21, 2022
Publishers Weekly celebrates a 150th birthday

January 16, 2022
A shift from analog to digital voices would lower production costs, lead to greater choice in titles, and mean a lot less work for Hollywood actors between pictures.

January 14, 2022
Romance readers have long been comfortable with digital because digital can keep up with their voracious reading pace.

January 07, 2022
As 2022 opens, Manhattan-based publishers have delayed plans to return to their offices.

January 02, 2022
The digital revolution has given a rocket boost to how we communicate, says Gen Z Explained co-author Roberta Katz.

December 26, 2021
In the final weeks of 2021, Velocity of Content is looking back at the past twelve months of programs. Here at CCC, we have a long track record as an early adopter of digital technology. Our company's domain name copyright.com went online in 1995 when

December 19, 2021
The New Normal must be adapted to an environment that requires us to be more inclusive, more tolerant, and more resourceful.

December 17, 2021
A PRH/S&S merger would be good for the industry, attorneys claim.