Balanced Mind with Julie Potiker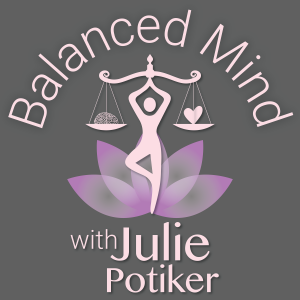 Magical Journey Guided Meditation with poem, "Tech and Me"
January 31, 2022
Unplug and relax with Julie Potiker as she takes you on a magical journey where you will find peace, connection, compassion and balance. She completes this guided meditation with her poem, "Tech and Me".
Tech and Me by Julie Potiker
Intuitively I slow my breathing
Feel my bottom in the chair
Unplug cords in the many cord strip
Unplug cords in my chest, arms and hands
Plug little blocks back in
Shut down, restart
Shut down
Restart
Is that the same as sleeping?
The monitor is a luminous black blank
My laptop plugged in is a shade of navy blue, reflecting my unwashed face in glasses, my sleeping sweater bought by a dear friend that I wear when I want to feel her hug
I wear it so much it is fraying
Light!
A monitor filled with little squares
Illuminated post it notes of productivity
Chaos on the screen that somehow feels cozy
Still unable to connect to zoom
Still unable to use my phone as a hot spot
Tiptoeing into the bedroom
It's cold in here
My tech support man is in a cave of blankets and pillows, the dog's paws drying on the rug after an early walk down the snow filled driveway
There are ice-cycles dripping from the satellite dish
Could that be the cause of lack of connectivity?
It's 10 minutes until Zoom
I've been patiently quietly trying for 30 minutes, or more
Do I wake him?
Oh…if the network cable is plugged in, turn off WI-Fi on the tool bar at the top he mutters, see if you get Google
No…unplug, re-plug… if it doesn't work, come get me
He's here now, in his sleepy head
This is interesting he says
Got to restart it - I already did that
Since we know the internet is working
And the WI-Fi is working
Therefore, the problem is in your computer
Do you understand that the problem is in your computer itself?
Ummmm…
He did it! My people! My tribe, there they are! 25 beautiful souls!
New faces along with old favorites
I let go of the wish I had on a bra, contacts, make up – be here now!
Get the latest on mindfulness and meditation by subscribing to Julie Potiker's YouTube channel and Facebook page at Mindful Methods for Life.
You can learn about mindfulness at www.MindfulMethodsForLife.com and also in Julie's newly released book, "Life Falls Apart, But You Don't Have To: Mindful Methods For Staying Calm In The Midst Of Chaos", available on Amazon.com. Her podcast, "Balanced Mind with Julie Potiker", available on iTunes, Spotify, iHeart, and everywhere you listen to your podcasts.
---
Download Episode