Balanced Mind with Julie Potiker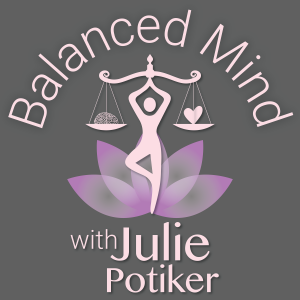 Grounded Mountain Meditation with poem, "When I Could Do Nothing", by Jane Hirshfield
August 26, 2020
Visualize yourself on a mountain, surrounded by nature and using your all of your senses to breathe in the experience all around you. Julie Potiker takes you on this grounding journey ending with the poem,"When I Could Do Nothing", by Jane Hirshfield. The poem comes at a time when many of us are attempting to navigate our lives during a pandemic.
This meditation was led virtually for the Balanced Mind Meditation Center.
Today, When I Could Do Nothing
Today, when I could do nothing,
I saved an ant.
It must have come in with the morning paper,
still being delivered
to those who shelter in place.
A morning paper is still an essential service.
I am not an essential service.
I have coffee and books,
time,
a garden,
silence enough to fill cisterns.
It must have first walked
the morning paper, as if loosened ink
taking the shape of an ant.
Then across the laptop computer — warm —
then onto the back of a cushion.
Small black ant, alone,
crossing a navy cushion,
moving steadily because that is what it could do.
Set outside in the sun,
it could not have found again its nest.
What then did I save?
It did not move as if it was frightened,
even while walking my hand,
which moved it through swiftness and air.
Ant, alone, without companions,
whose ant-heart I could not fathom —
how is your life, I wanted to ask.
I lifted it, took it outside.
This first day when I could do nothing,
contribute nothing
beyond staying distant from my own kind,
I did this.
Get the latest by subscribing to Julie Potiker's YouTube channel and Facebook page at Mindful Methods for Life.
You can learn about mindfulness at www.MindfulMethodsForLife.com and also in Julie's newly released book, "Life Falls Apart, But You Don't Have To: Mindful Methods For Staying Calm In The Midst Of Chaos", available on Amazon.com. Her podcast is "Balanced Mind with Julie Potiker", available on iTunes, iHeart and other podcast platforms.
---
Download Episode