Anything But Idle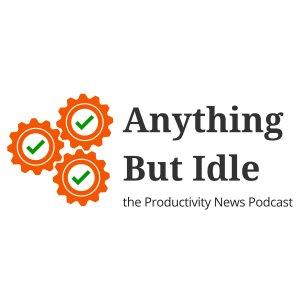 Google I/O
May 23, 2022
Google I/O and the Productivity News This Week
https://youtu.be/fqnTPUOS7uY
(If you're reading this in a podcast directory/app, please visit https://anythingbutidle.com for clickable links and the full show notes and transcript of this cast.)
Enjoy! Give us feedback! And, thanks for listening!
If you'd like to continue discussing any news from this episode, please click here to leave a comment down below (this jumps you to the bottom of the post).
In this Cast | Google I/O
Art Gelwicks, a productivity and collaboration consultant, blogger at Gelwickstech.com, and host of the Being Productive podcast, CrossPlatform podcast, as well as ProductivityCast Podcast.
Resources we mention, including links to them, will be provided here. Please listen to the episode for context.
Why a Remote Workspace Will Set You Up For Career Success
How to Create a Productive Remote Work Schedule
How to Create a Work Wellbeing Plan
The Top Tech Essentials You Should Take on a Business Trip
Apple Google and Microsoft will soon implement passwordless sign-in on all major platforms
Google Kills Headphone Jack in Latest Pixel 6A Just Months After Parodying Apple 
Amazon working on a new Kindle with Note Taking Functionality
Apple Patent Suggests Future iPad Could Transform Into macOS-Like Experience When Attached to a Keyboard 
Business & Finance Segment
Remarkable raises new round of funding with $1B valuation
E-Ink iPad Rival 'reMarkable' Sells More Than 1 Million Devices
Featured Story of the Week
New Chromebook features announced at Google I/O 2022
All the New Android Features Announced at Google I/O
Wear OS is finally getting a Google Home app for smart home controls [Video]
Revamped Google Wallet officially revealed Pay gets Virtual Cards for better checkout protection
Google sends Apple a direct message about iMessage at IO
Android tablets might finally get that iPad-beating update
Google I/O Highlights for Apple Users: Sneak Peek at Pixel 7, Pixel Watch, More 
Google could soon introduce a seamless cross-device experience
Announcements
---
Download Episode