Anything But Idle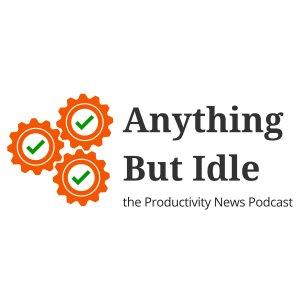 Latest Episodes

March 02, 2021
https://youtu.be/Uv0xVY1GvA8 One fish. Two fish. Red fish. Blue fish. We all know Theodor Seuss "Ted" Geisel, better known as Dr. Seuss, for his more than 60 children's books that he both wrote and illustrated.

February 23, 2021
https://youtu.be/MdF3CyZrbC0 Happy National Random Acts of Kindness Day, and in honor of that, we thought because of "holiday" we would have a conversation about productivity and kindness, and how those two things work together.

February 16, 2021
https://youtu.be/DDSI556Yj9I In honor of Presidents' Day (US), we discussed the Eisenhower matrix (named after President Dwight D. Eisenhower because of his "use" of the matrix, where really it was Stephen R.

February 09, 2021
https://youtu.be/6Qdvo55kt68 This week on the show, we discuss pet productivity, covering some tips for caring for your pet companions productively with pet lover and branding expert, Isabel Pinaud (find her on Instagram @brandyourweird).

February 02, 2021
https://www.youtube.com/watch?v=qGS2FU6Eb4o Wellness Productivity with Jeff Siegel, plus ChromeOS 88 Brings Smart Display Features - Anything But Idle - February 1, 2021 This week, we invited Health Coach Jeff Siegel to join us to talk about wel...

January 26, 2021
https://youtu.be/pNlt1N8c0Vc How to Have Fun and Create Serious Play at Work, Home Launches in Evernote, and More Productivity and Technology News This Week This week, we discuss the importance of fun and play at work,

January 23, 2021
https://youtu.be/_2Eo8m46y_Y In this episode 040 of Anything But Idle, we discuss semantics--how words matter in personal productivity, virtual Consumer Electronics Show 2021 and some of the productivity-focused product announcements,

January 15, 2021
https://youtu.be/iimrCDBv0Pc Commentary on Samsung Galaxy Unpacked 2021 Launch Event Samsung's Galaxy Unpacked Launch Event was on January 14, 2021. Ray Sidney-Smith and Augusto Pinaud went live to discuss and comment on all the product announcement...

January 12, 2021
https://youtu.be/TTL4cL30iSA Organizing Your Office Desk, Asana and Productivity News of the Week - Anything But Idle - January 11, 2021 Happy (Belated) Clean Off Your Desk Day! In honor of the "holiday,

January 05, 2021
https://www.youtube.com/watch?v=7YUND7IXLlc This week, we discuss goals planning for the new year, in light of the changing circumstances. What are your goals for 2021? (If you're reading this in a podcast directory/app,