AIDtoNAV - Clear Direction for Small & Micro Business with Robert Earl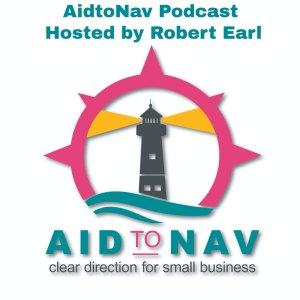 Latest Episodes

August 10, 2020
On this episode of AidToNav Podcast, Robert sits down with the W3 business development coordinator, Ken Jones. W3 Insurance is a top 100 casualty and insurance agency in the United States providing risk management for clients since 1925.

July 27, 2020
Carissa Reiniger is an entrepreneur and small business growth expert and the founder of Silver Lining, a company that has helped over ten thousand small businesses hit and achieve their financial goals. She is also an author.In this episode,

July 20, 2020
Pat Knauer is an author and coach focused on helping micro-businesses get more clients through ways like marketing strategies and content marketing. She is also a speaker, a trainer, and has authored two books 'Success Begins in The Corner Office' and ...

July 06, 2020
Jamie Van Cuyk is the owner and lead strategist of Growing Your Team. She is a speaker, podcast host, and an expert in hiring and small business team building and people management with small businesses. She inspires people through her work and her p...

June 24, 2020
The deadline is fast approaching from the SBA for micro business owners to apply for Payroll Protection Loans (PPP). This program is available for small businesses as well as independent contractors, solopreneurs and gig economy workers.

June 12, 2020
This first episode is being recorded as business is coming back to life here in the United States. I'm located in the Clearwater Florida area. It has been business as usual for some businesses that start to open back up as now restaurants,