Breaking Barriers, Building a Hire Ground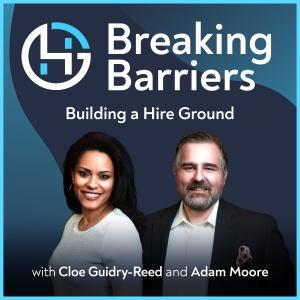 Welcome to the New Year
January 24, 2023
It's a brand new year, which means it's the perfect time to sit down and think about our goals and plans for 2023. Sometimes, it can be difficult to look forward. We can get stuck either not knowing what it is exactly we want to achieve or reaching for grandiose goals without a plan. How exactly does one plan and set goals to reach new business heights in 2023?
In this episode, we delve into the process of setting goals, planning and strategizing for a profitable 2023. We discuss how knowing your purpose as an organization can help you build goals around it and empower leaders and teams. We explain the value of transparency and integrity when communicating strategy changes and offer advice on making a pivot. We also highlight how evaluating the previous year can help you set up goals for the new year and underscore how creating opportunities for diverse suppliers can serve your organization.
"Your tactics have to make sense and be a mirror of who you are as a corporation. Whatever strategy you're setting up needs to be in harmony with who you are as an owner and business." - Adam Moore
This week on Breaking Barriers:
●     Envisioning and understanding where you want to be at the end of 2023
●     Considering your capacity to execute in line with your vision and strategy
●     Starting with "why" and knowing your purpose as an organization
●     The importance of leading by example
●     Getting team buy-in and why decisions and strategies shouldn't be made in a vacuum
●     Why solopreneurs should be part of a trade group
●     How to adapt a strategy and make a pivot
●     Communicating changes in strategies
●     Assessing whether you need to make a hard strategy pivot or "adapt-and-overcome."
●     The role of mindset in leadership and the advantage of being a small organization
●     Understanding transparency and communicating business strategies to employees and the leadership team
●     Volunteering, giving back and serving the people and communities around you
●     Creating opportunities and developing the suppliers that you have today
This podcast is brought to you by Hire Ground
Hire Ground is a technology company whose mission is to bridge the wealth gap through access to procurement opportunities. Hire Ground is making the enterprise ecosystem more viable, profitable, and competitive by clearing the path for minority-led, women-led, LGBT-led, and veteran-led small businesses to contribute to the global economy as suppliers to enterprise organizations.
For more information on getting started, please visit us @ hireground.io today!
If you enjoyed this episode, please subscribe and leave a review wherever you get your podcasts.
Apple Podcasts | TuneIn | GooglePlay | Stitcher | Spotify
Be sure to share your favorite episodes on social media and join us on Facebook, Twitter, and LinkedIn.
---
Download Episode