Breaking Barriers, Building a Hire Ground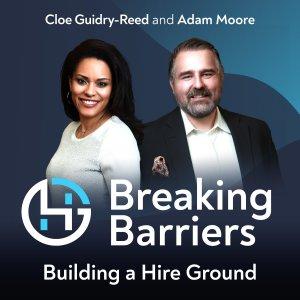 Leading with Intentionality with Mark Wilson
November 02, 2022
Mark Wilson is the President & CEO of Chime Solutions, a company that prides itself in delivering one of the best contact center solutions in the country by focusing on customer care. Chime is socially driven, unlike other outsourcing companies, giving underserved communities the opportunities they deserve with every transaction. Before it was called Chime Solutions, Mark was the CEO of Ryla Teleservices, a telecommunications company, for over ten years.
Mark joins us to share how Chime Solutions is making a difference for the underserved community by being a minority-led business. He describes the culture-first business model he applied to Chime and why it generates long-term revenue for its clients. He explains the struggles and opportunities presented to minority-led businesses. Mark also discusses the progressive changes he's seen in his experience supporting underserved communities.
"Customers are definitely important. You gotta do what you gotta do to make sure they're satisfied and happy, but that gets done through people." - Mark Wilson
This week on Breaking Barriers:
●     What Chime Solutions is and the services they offer
●     Mark's career evolution and why he started Chime Solutions
●     The opportunity Mark saw in the way corporate America treated relationships
●     Why their model is sustainable and benefits every participant
●     The struggles and opportunities of being a minority-led business
●     The positive changes Mark has seen in the industry regarding support for minority-led businesses
●     Mark's goal of breaking the stigma of partnering with minority-led businesses
●     How Chime Solutions retains a "family feel" despite their expansion
●     Being innovative while maintaining company culture
Connect With Mark Wilson:
This podcast is brought to you by Hire Ground
Hire Ground is a technology company whose mission is to bridge the wealth gap through access to procurement opportunities. Hire Ground is making the enterprise ecosystem more viable, profitable, and competitive by clearing the path for minority-led, women-led, LGBT-led, and veteran-led small businesses to contribute to the global economy as suppliers to enterprise organizations.
For more information on getting started please visit us @ hireground.io today!
If you enjoyed this episode, please subscribe and leave a review wherever you get your podcasts.
Apple Podcasts | TuneIn | GooglePlay | Stitcher | Spotify
Be sure to share your favorite episodes on social media and join us on Facebook, Twitter, and LinkedIn.
---
Download Episode