Breaking Barriers, Building a Hire Ground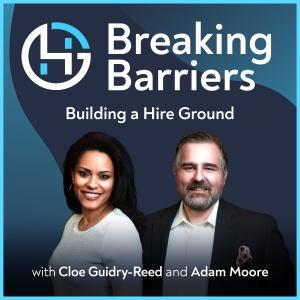 Uncovering Racial Inequities in Public Contracting with Journalist Paul Singer
October 11, 2022
Paul Singer is an investigations editor at GBH News, a news agency that delivers local and national news for those in the Boston area and beyond. His passion for investigative journalism started in his childhood, having started his own newspaper when he was just ten years old. He had over 30 years of experience covering politics and government before deciding to move to Boston and put all his energy into local investigative news. One of Paul's biggest projects involved uncovering the racial disparities in the awarding of government contracts in the state of Massachusetts in their Color of Public Money series.
Paul joins us today to discuss how he found his passion for investigative journalism and the professional experiences that led him to where he is today. He defines structural racism from the viewpoint of contract awarding. He shares his major findings, including the gradual decline of contracts awarded to minority-led businesses. He discusses George Floyd and how his death affected various industries. Paul also describes why racism is always the answer to every excuse.
"Racism is the underlying reason behind every other reason these companies give me. The answer to every excuse goes back to racism." - Paul Singer
This week on Breaking Barriers:
●     Paul's professional experience and passion for investigative reporting
●     Understanding structural racism based on lack of inclusion
●     Why Paul suggests putting terms and conditions on your websites
●     Some of the findings Paul found in investigating public contracts
●     What George Floyd's murder did to minority-owned businesses
●     What structural racism means for minority-owned businesses
●     Catching companies that practice shady minority spend declarations
●     The root of minority-owned businesses struggling with getting government contracts
Resources Mentioned:
●     Utilizing Tail Spend To Meet Your Supplier Inclusion Goals
●     Innovation + Supplier Inclusion/ Finding New Ways to Solve Old Problems
Connect with Paul Singer:
●     GBH News
This podcast is brought to you by Hire Ground
Hire Ground is a technology company whose mission is to bridge the wealth gap through access to procurement opportunities. Hire Ground is making the enterprise ecosystem more viable, profitable, and competitive by clearing the path for minority-led, women-led, LGBT-led, and veteran-led small businesses to contribute to the global economy as suppliers to enterprise organizations.
For more information on getting started, please visit us @ hireground.io today!
If you enjoyed this episode, please subscribe and leave a review wherever you get your podcasts.
Apple Podcasts | TuneIn | GooglePlay | Stitcher | Spotify
Be sure to share your favorite episodes on social media and join us on Facebook, Twitter, and LinkedIn.
---
Download Episode