Breaking Barriers, Building a Hire Ground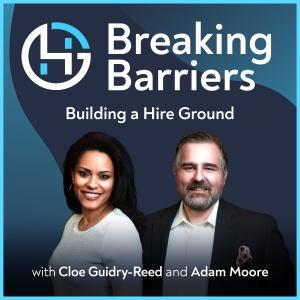 Reflections On Our 100th Episode
September 27, 2022
The past 100 episodes flew by, and it feels surreal that we achieved this milestone. We've had wonderful guests who gave us unique insights into supplier diversity, equity, and what it means to have a culture that promotes intentionality. We have learned so much from each episode and wouldn't have done it without you—our dear listeners.
In this episode, we share our thoughts on the past 100 episodes and what we learned from our guests. We discuss how the podcast started, the episodes you likely wouldn't hear, the mistakes we made and learned from, and the show's overall goal of promoting supplier diversity. We explain the common themes to all of our guests and our main takeaways as hosts. We describe what's in store for the future of the show and the possibility of a live event. We also reveal our favorite episodes and what made them more memorable than the rest.
"I want what we're doing to leave a legacy for our industry." - Cloe Guidry-Reed
This week on Breaking Barriers:
●      How the podcast started
●      Growth stats and the number of listeners we've had since we started
●      Our favorite guests and topics
●      What our show allows us to do for clients and suppliers
●      What our guests have taught us beyond supplier diversity
●      The one thing we both learned from hosting
●      The common themes behind every topic
●      Our advice to those who want to start their own podcast
●      The direction the show will take
●      Our plans for a future live event
Resources Mentioned:
●      Episode 11: Growing with Mentorships and Advocacy with Sofia Bork
●      Episode 17: Driven the Thrive With Veronica Maldonado-Torres
●      Episode 43: Aligning Supplier Diversity to Organizational Strategy with Kris Oswold from UPS
●      Episode 45: Honoring the Past while Building for the Future; A Family's Legacy with Michael Russell
●      Episode 47: Leading with Intentionality with Mark Wilson, CEO of Chime Solutions
●      Episode 62: Shifting Our Focus from Metrics to Supplier Development with Nedra Dickson of Accenture
●      Episode 63: The Importance of Economic Inclusion with Johnny Howze, III at Southern Company
●      Episode 75: Leveraging Supplier Diversity to Support the Community with Darryl Lesure of Chick-Fil-A
This podcast is brought to you by Hire Ground 
Hire Ground is a technology company whose mission is to bridge the wealth gap through access to procurement opportunities. Hire Ground is making the enterprise ecosystem more viable, profitable, and competitive by clearing the path for minority-led, women-led, LGBT-led, and veteran-led small businesses to contribute to the global economy as suppliers to enterprise organizations.
For more information on getting started please visit us @ hireground.io today! 
If you enjoyed this episode, please subscribe and leave a review wherever you get your podcasts.
Apple Podcasts | TuneIn | GooglePlay | Stitcher | Spotify
Be sure to share your favorite episodes on social media and join us on Facebook, Twitter, and LinkedIn. 
---
Download Episode