Breaking Barriers, Building a Hire Ground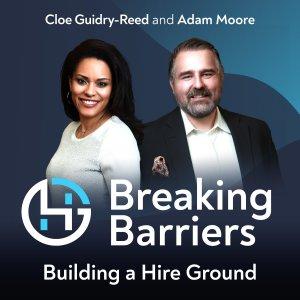 Construction Industry Diversity Leaders Mishaune Sawyer & Theresa Schroeder on Building Racial Equity
August 23, 2022
Mishaune Sawyer is the Senior Diversity, Equity, and Inclusion Manager at JE Dunn Construction, a family and employee-owned commercial building contractor founded in 1924. She has over 20 years of professional experience and is an expert in the diversity, equity, and inclusion space.
Theresa Schroeder is the Vice President and Regional Community and Citizenship Director at Turner Construction Company, an international construction services company that's proud to be a leader in diverse markets. She drives the community outreach at Turner Construction and is a seasoned professional in anything related to supplier diversity and diversity and inclusion.
Mishaune and Theresa join us today to describe how their companies navigate the DE&I space and how they established a culture of diversity in their organizations. They share their professional experiences in heading supplier diversity programs. They explain that diversity isn't just about minorities but everyones' opinions being heard. They share how not everyone has an intent to offend and how we can use those moments as a learning opportunity. Mishaune and Theresa also describe the questions we should be asking to move forward.
"If DE&I is working like it's supposed to, it's interwoven in everything we do."
- Mishaune Sawyer
This week on Breaking Barriers:
●      Mishaune's and Theresa's professional background and their DE&I programs
●      Their experience in supplier diversity and how they apply it in their organizations
●      How a law degree helps in maneuvering the DE&I space
●      Ensuring representation in everyday ads
●      Identifying and addressing problems instead of excusing them
●      Creating a culture of accountability starting from the interview
●      Why diversity is not just about minorities
●      Understanding that some people don't mean to be offensive
●      Addressing the remaining barriers we need to remove for diversity
●      The questions we should be asking to assert supplier diversity from a cultural standpoint
Connect with Mishaune Sawyer:
Connect with Theresa Schroeder:
●      Therese Schroeder on LinkedIn
This podcast is brought to you by Hire Ground
Hire Ground is a technology company whose mission is to bridge the wealth gap through access to procurement opportunities.
Hire Ground is making the enterprise ecosystem more viable, profitable, and competitive by clearing the path for minority-led, women-led, LGBT-led, and veteran-led small businesses to contribute to the global economy as suppliers to enterprise organizations.
For more information on getting started please visit us @ hireground.io today!
If you enjoyed this episode, please subscribe and leave a review wherever you get your podcasts.
Apple Podcasts | TuneIn | GooglePlay | Stitcher | Spotify
Be sure to share your favorite episodes on social media
---
Download Episode